Giving back to my community, and to the world, both with time and with money, is important to me.
Leaders instituted the Leaders for Education scheme, whereby we donate $250 to a school when we sell a home. I am proud to be sponsoring three schools and two preschools through this scheme.
At Onslow College, I sponsor the Deborah East-Anastasi Scholarship, which contributes to overseas travel for students representing New Zealand or the school in a cultural, academic or sporting field.
When I got my moving van as a courtesy vehicle for my clients, it opened up a whole new opportunity to fundraise for charity: when clients don't need it, I lend my van to other people in exchange for a donation to charity, or direct to charitable groups such as the Refugee & Migrant Service.  This money has so far gone to various schools; SPCA;  Foundation of the Blind, and Hadassah International, a non-partisan hospital in Jerusalem.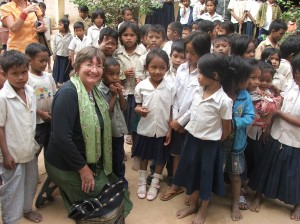 In 2008 I went to Cambodia with the VSA Volunteer Service Abroad Adventure programme.  On my return, I arranged to have 2000 eco shopping bags made as part of an aid project training young women in a rural village in north-east Cambodia to run their own sewing businesses.
As a member of Zonta International I have been involved in local projects through them such as helping run an annual clothing sale for the Women's New Horizons Trust to raise money for scholarships for second-chance education for women; fundraising for the Upper Hutt Teen Parents' School; and fundraising for overseas projects such as a literacy project for women & girls in Afghanistan, and helping HIV+ women in Africa start businesses.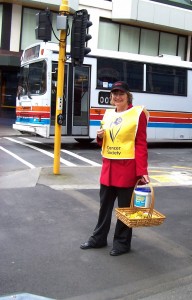 I am a member of the SPCA Dog Squad, which entails collecting for SPCA outside supermarkets, accompanied by my dogs, several Saturdays a year. I also do street collections for Women's Refuge, Rape Crisis Centre, White Ribbon Day, and Cancer Society's Daffodil Day.
I help run a luncheon for an elderly group once a month, and drive the members to events when needed.
I sponsor a Tibetan refugee child, Tensin, in Darhamsala, India, through a volunteer-run Buddhist organization, Tibetan Children Relief Society of NZ.
If you would like to know more about how you can help any of these worthy organizations, just ask me.