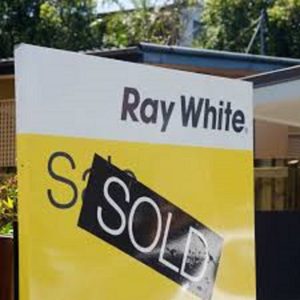 2-50 Cambridge Tce – This large, sunny, centrally located 2 bedroom apartment went from empty to furnished with our make-over items and sold for over 25% above its RV of $410,000.
10-313 The Terrace – This lovely 30m2 studio with deck had 8 offers on deadline day and ended up selling for 25% above the RV of $155,000.
19 Holloway Road – Gorgeous character cottage ripe for refurbishment generated a lot of interest and the sold sign went up on Christmas Eve ensuring a happy festive season for both buyer and seller.
173 Parkvale Road – Wonderful 2 year-old rural-zoned home, with own protected bush. A front page feature in the Property Press helped ensure huge numbers at the open homes, and a price in excess of $1 mil, which was substantially above my appraisal figure – sometimes I love being proved wrong!
5-28 Clifton Tce – My 34th sale on leasehold land, and I don't know of any other agent who has sold more than three. But the bottom line is that less money leaves the owner's pocket each month than for an equivalent freehold property the same size, so it's an opportunity for those who can see it.
9-28 Clifton Tce – A beautiful apartment which sold at tender with competing offers and a back-up offer despite the leasehold land.
196 Hanson St – 2-flat do-up property with an "unofficial" half-finished third flat downstairs. 14 tenders, and a price way higher than expected.
113 Holloway Rd – Cute but tiny, with packed open homes and lots of tenders. An interesting situation meant I got a back-up offer on an unconditional sale just in case, but all turned out well!
37 Epuni St – Near derelict, known to the neighbours as "the leaning house", but with great potential. Lots of teamwork from colleagues, and an outstanding result.
5-374 Tinakori Road – A virtually-identical apartment in this 12-flat company-share block came on the market the same week, but all four of the offers I got my vendor were well above what the other agent got her vendor, and I sold it for $53,000 above. Proof yet again that some agents just do a better job for their sellers.
16C Chews Lane – I was able to negotiate a one-off deal on this beautiful apartment for some very lucky buyers – it didn't come to the market at the seller's
request.
17 Harbour View Rd – This 180m² family home was in such a good location right opposite Northland School, that it sold at tender for over 50% above its RV despite the white asbestos in its cladding.
3/28 Clifton Terrace – The 5th time I have sold this apartment over the last 20 years. Leasehold land puts off most people, but the land lease payments usually work out cheaper than the extra mortgage you would have to pay for an equivalent freehold property, so it's not all bad. It's a beautiful apartment, so two very busy open homes lead to a very happy seller. I have disappointed buyers hoping for another one now!
434 The Esplanade – This wonderful old 2-flat property needs a lot of work, but the market is hot! There were 3 competing offers despite the pre-Xmas slowdown, then lots of negotiating to be done with both buyers and tenants, and lots of extra viewings to get tradesmen through. The buyers are totally in love with that waterfront view, and so happy!
313A The Terrace – It took a while, as the complex doesn't look special from the outside, but the apartment is spacious & sunny, and I dressed it and got it looking good. Persistence paid off, and I ended up with a back-up offer which won it.
1/374 Tinakori Rd – It's always nice to be called in to sell for the person who bought the property from me, and I love company share – quiet neighbours! Buyer & seller are both happy, and my van got used on move-out and move-in.
2/1 Harland St – Last time I sold this, the seller assured me there was no asbestos in the ceiling texture – unfortunately a test from the lab in Gracefield proved this wrong. I shared the info I had from another client who had removed a similar ceiling coating recently, so the buyer wasn't put off. But if you have an asbestos ceiling, I recommend getting it removed, as the rules on removal are getting tougher, so the cost will go up.
9/313 The Terrace – The 3rd time I've sold this apartment, and since I own an identical one next door, I was able to share my inside knowledge. So I sold it in 2 weeks. The buyers are new investors, so I found them a tenant and set everything up.
18/306 Karori Rd – At BEO $180,000 for a one-bedroomed company share apartment with its own garage, this is great value. I put in my own furniture and got it looking homely. A lot of investors looked, but the building has restrictions on renting out. But it's perfect for a young professional who understands value and doesn't want to be surrounded by noisy tenants.
8B Randolph Road – Over 80 people through the first open home, and competing offers on tender date despite the last-minute discovery that the last owner didn't get the Building Consent signed off from his alterations – it will be unconditional as soon as this is sorted out. The seller's price expectations were exceeded by over 15% – if you're thinking of selling, ask me how I can get the best possible price for you.